Problem
According to the report, the study indicates that contrast to our stenotype, most of people cooking for healthy reason or saving money than just enjoy. At the same time, people are busier than ever, it's hard to invest so much time in cooking. Therefore, how help them cook more nutrition and efficiency in cooking is a important challenge.
solution
With the help of technology, we can recommend people what to eat based on the nutrition fact and what do they have in the refrigerator and shop food or ingredient at home. Besides, we also propose to provide a better way for users to organize their meal plan.
Design Process
03.Aapproach
This two-month project covered analysis, design, evaluation and refinement.
3.1 Analysis:
To take off with this project, we studied several cooking research to understanding the possible needs based on the society change. we also research current competitors and upcoming technology to realize the technical limit. After that, we summarized primary and secondary persona and their use context.
3.2 Design:
After confirm the main function based on users scenarios, we developed information architecture for the refrigerator and Lo-Fi UI sketch.
3.3 Evaluation:
We selected few users and went to their home to post the paper sketch on their refrigerator for testing. Based on the results, we have our first version Hi-Fi mockup. And we repeat the process for keeping polish.
3.4 Refinement:
We literate the design according to two main leanings. Detail explain below.
05.Persona
5.1 First persona
"I want to cook healthy food for my family."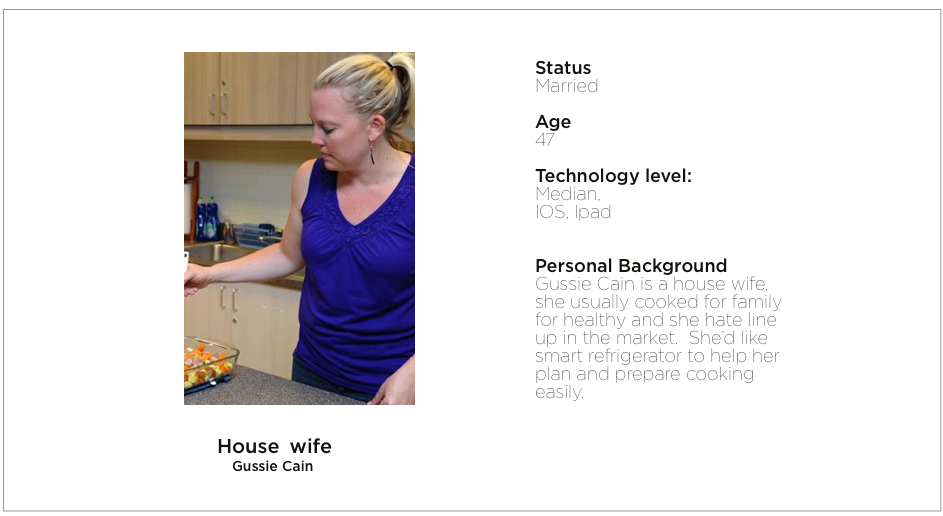 5.2 Secondary persona
"Planning ahead and eat efficiently."